Fritz Pauli – Perseus and Andromeda
Striking 1960 illustration of the myth of Perseus and Andromeda by Swiss artist Fritz Eduard Pauli.  Low-number limited edition artist's print numbered V / VI.
Etching in colors, aquatint
Dimensions: 75 x 85 cm in the frame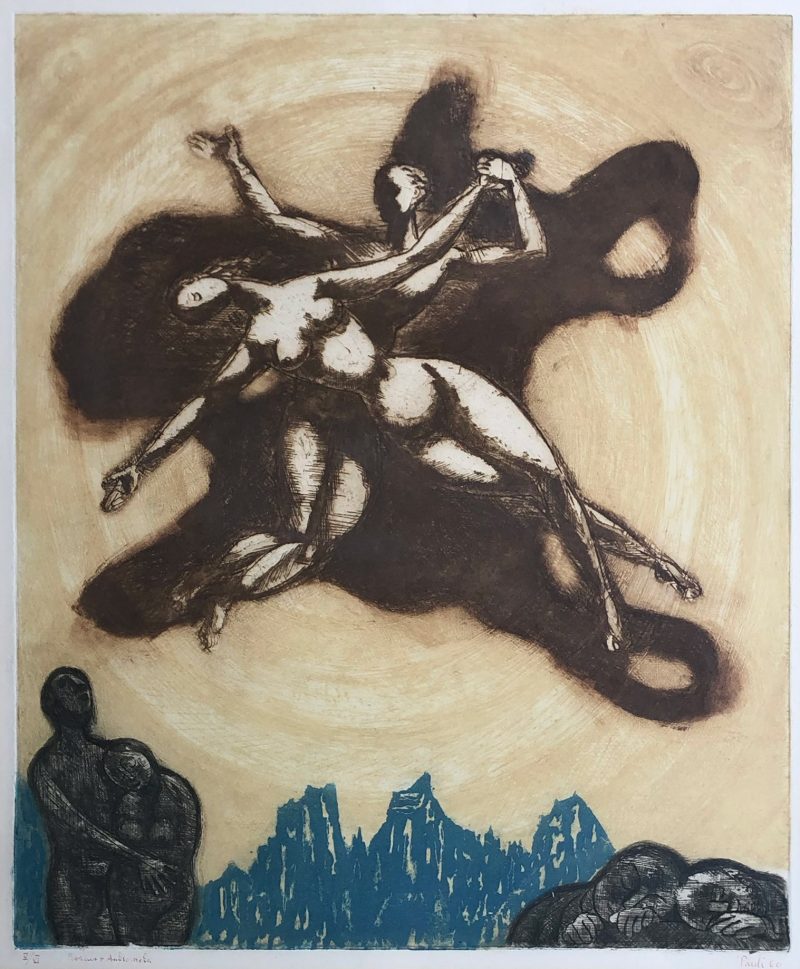 Fritz Pauli
May 7, 1891, Bern - September 3, 1968, Cavigliano
Also known as: Fritz Eduard Pauli
Born in Bern the son of a banker, Fritz Eduard Pauli developed an early interest in engraving and printmaking and was invited by the renowned artist Albert Welti to become his pupil.  In Welti's house in Bern, Pauli got to know some of the leading Swiss artistic figures of his time, including Paul Klee, Hermann Hesse and the composer Othmar Schoeck. Thanks to an introduction by Welti, Pauli was accepted into the classes of the talented engraver Peter Halm at the Kunstakademie München.  In 1913 he opened an artist's studio in Munich.  Pauli traveled extensively during his lifetime, up until he eventually settled longer term in Cavigliano in the hills above Locarno in the Swiss Italian region Ticino.  In his artistic life, he was closely allied with his friends  Johann Robert Schürch and Ignaz Epper and with the writer Jakob Bührer.
Pauli's early work was influenced by German expressionism, especially following a stay in Davos in the 1920s where got to know Ernst Ludwig Kirchner.  Fritz Eduard Pauli is considered one of Switzerland's leading expressionists, but his unique style also places him, especially after the move to Cavigliano, within the broad concept of magic realism.