Francois Nicolas Martinet – Waterbirds – Smew, Widgeon, Petrel and Puffin
Piette Male, Le Canard Siffleur, Le Petrel, Puffin  – Smew, Widgeon, Petrel and Puffin
Original 18th Century copperplate print after a drawing by Francois Nicolas Martinet – one of the most famous bird illustrators of all time – for the Encyclopédie, the great compendium of enlightenment knowledge published during the second half of the 18th Century.
Condition: Some spotting and discoloration as shown below. Overall a striking strong impression.
Dimensions: Approximately 10 X 15.25 inches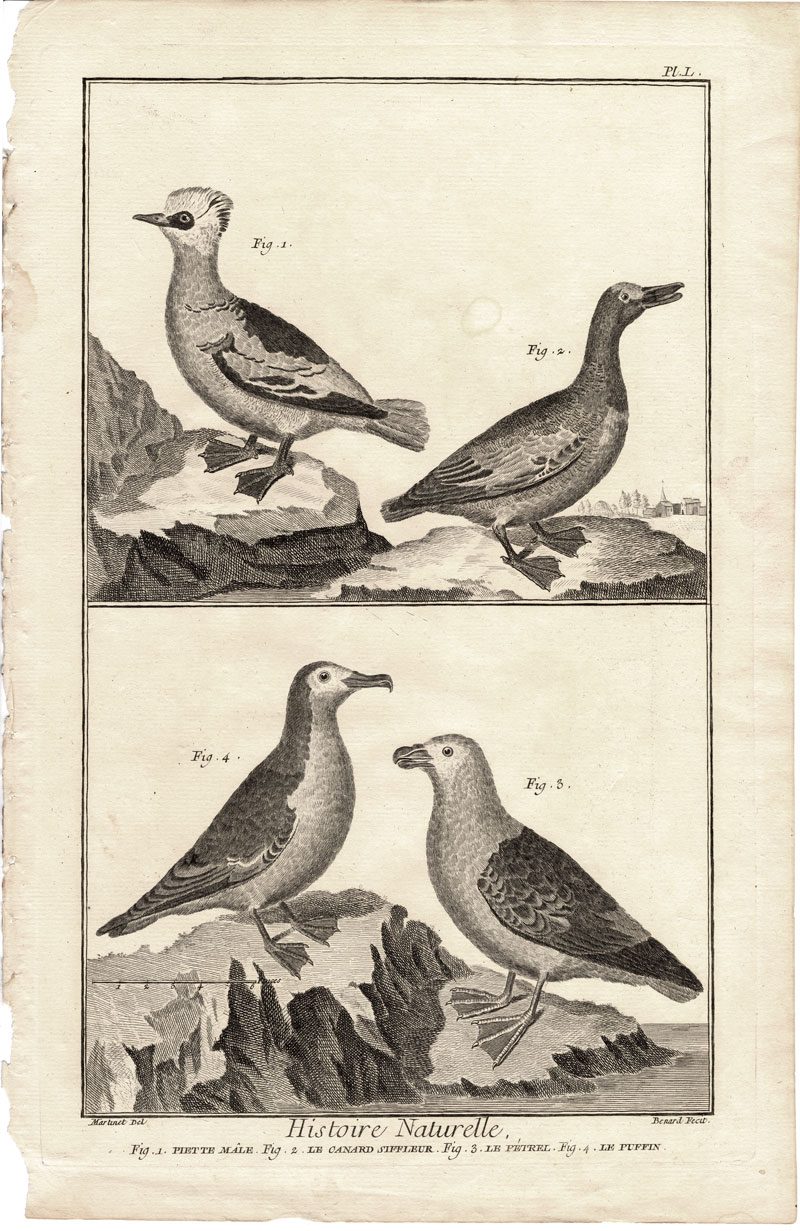 Francois Nicolas Martinet
1731 - 1790 (?)
Francois Nicolas Martinet was one of the most famous bird illustrators of all time.  He created illustrations of birds for books by some of the most influential publications of 18th-century France including 21 ornithological illustrations done for Diderot et d'Alembert's Encyclopédie, the great compendium of enlightenment knowledge, l'Ornithologie de Mathurin Jacques Brisson (1760) and Buffon's l'Histoire naturelle des oiseaux.
Encyclopédie, ou dictionnaire raisonné des sciences, des arts et des métiers
Published in France between 1751 and 1772
The Encyclopédie, ou Dictionnaire Raisonné des Sciences, des Arts et des Metiers was published in Paris between 1762-1777. A masterpiece of the Enlightenment, it set out all the knowledge of the day, and was a first attempt to document the techniques of mechanical production for objects used in everyday life.  Edited by Denis Diderot and Jean le Rond d'Alembert, Encyclopedie it had many distinguished writers and contributors, known as the Encyclopédistes.  Scholars from around the world submitted chapters, including the philosophes Voltaire and Rousseau, and American founding fathers Benjamin Franklin and Thomas Jefferson.  The work consisted of 28 volumes, over 70,000 articles and 3,129 illustrations many of which were turned into copperplate engravings by the hand of Robert Bénard.
Denis Diderot was a French philosopher, and man of letters, and the chief editor of the L'Encyclopédie, one of the principal achievements of the Age of Enlightenment. He was a a friend of the great minds of his age including Goethe, Rousseau, and Hume. A freethinker, Diderot challenged the authority of the Church and criticized the French system of government.