Saverio Manetti -18th Century Engraving of an Owl – Strige Maggiore
Saverio Manetti
Owl – Plate LXXXIV – Strige Maggiori o Strige Allocco
From Storia naturale degli uccelli (The Natural History of Birds) by Saverio MANETTI, Saverio, Lorenzo LORENZI and Violante VANNI published in 1776 in Florence by Giuseppe Vanni.
Hand-colored engraving on old chainlinked paper. Excellent condition, full margins, fresh colors.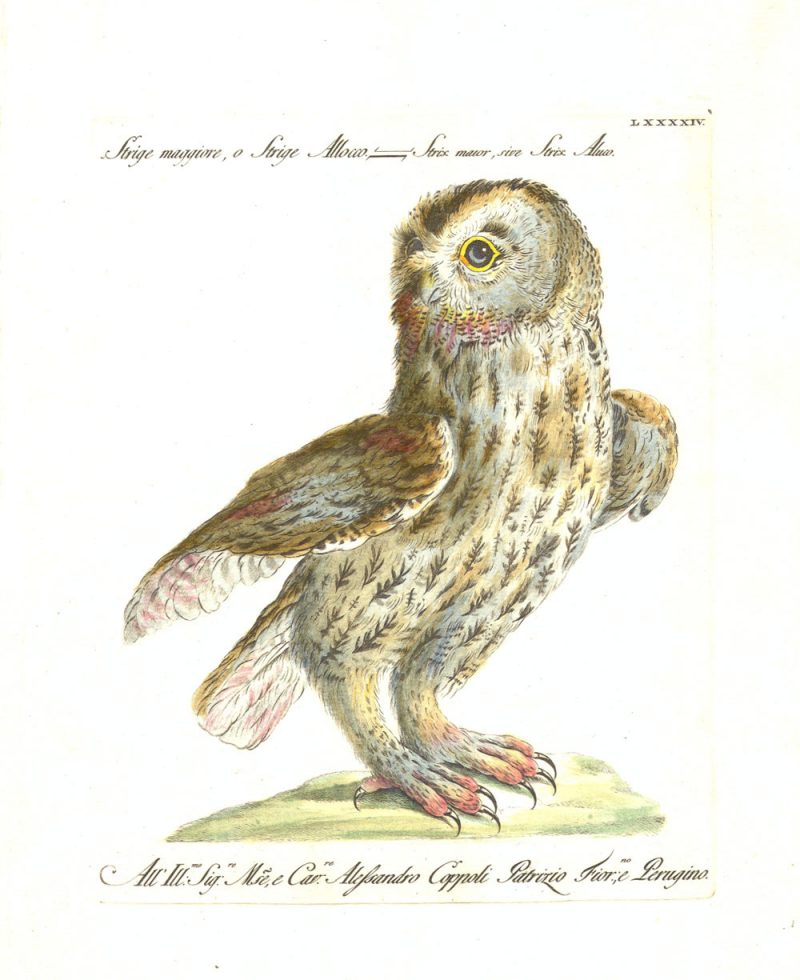 Storia Naturale degli Uccelli
1776 - Florence
Saverio Manetti, Saverio, Lorenzo Lorenzi and Violante Vanni
Each Measures Approx. 48.5 X 38.5 cm
Francesco Saverio Manetti was an Italian physician, botanist and ornithologist who served as president of the Botanical Society of Florence, as well director of the Florentine Botanical Gardens.  The artists-engravers Lorenzo Lorenzi and Violante Vanni created over 600 illustrations for the book.
The well-known natural history author S. Peter Dance described Manetti's "The Natural History of Birds" as follows:
"The production of its five massive folio volumes must have been one of the most remarkable publishing ventures ever undertaken in Florence. Begun in 1767, and [based on birds taken from the collection of Giovanni Gerini], it was completed ten years later. It was larger, better engraved and more vividly coloured than any previous work on birds, but these are not its only claim to fame. The attitudes of the birds themselves give this book its unique character. Strutting, parading, posturing, and occasionally flying….are birds whose real-life counterparts would surely disown them, and not without reason, for Manetti seems in these pictures to be depicting the human comedy, the habits and mannerisms of contemporary Italian society. His book may still be rated among the very greatest bird books, if only for its magnificent comicality" (S. Peter Dance, The Art of Natural History: Animal Illustrators and their Work. London: 1978)