Karl Stauffer-Bern – Reclining Female Nude
Karl Stauffer-Bern
(Bern, 1857 – Florence, 1891)
Reclining Nude -1886
Der Liegende Weibliche Akt
Beautiful engraving of a female nude, lying on white sheets.
Text written in the plate: gezeichnet & gestochen von Karl Stauffer-Bern Berlin 86.

Beneath the print appear the words: "Karl Stauffer-Bern fecit." (left), "O.Felsing, Berlin impr." (center), "Amsler & Ruthardt, Berlin W." (right).
Lehrs 22 / II N d – Neudruck made by O. Felsing for Amsler&Ruthardt sometime beween 1891 and 1907.
This is a superb quality reprint made by Otto Felsing one of Germany's master printers of the late 19th century. Felsing collaborated directly with major artists of his time including Kathe Kollewitz and Emil Nolde. Reprinted editions by Felsing are also catalogued in Max Lehr's 1907 catalogue raisonee of Stauffer-Bern's work.
Dimensions of full sheet: 32 X 44.5 cm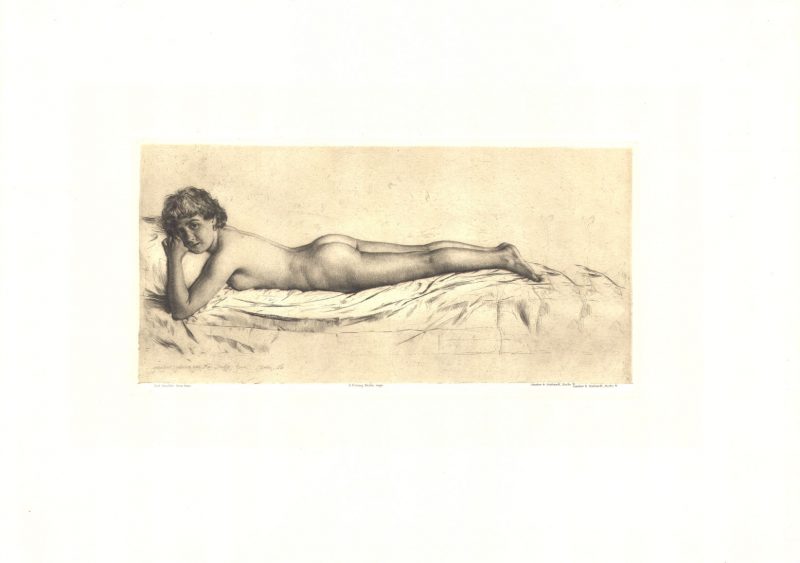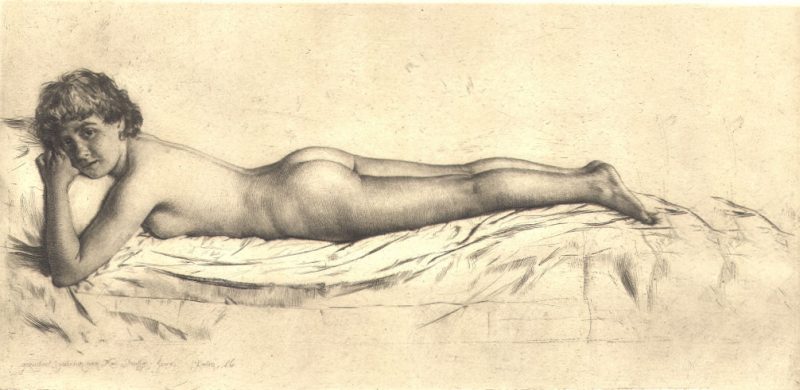 Karl Stauffer-Bern
(Bern, Switzerland, 1857 - Florence, Italy, 1891)
Karl Stauffer-Bern was one of the greatest Swiss portraitists of the 19th Century. It is difficult to name another engraver who could equal his subtlety and mastery in depicting the human face. The beauty of the body of work Stauffer-Bern created during his short life combine with the tragedy of his personal destiny to make him one of the most fascinating Swiss artists.
Stauffer-Bern studied at the Munich Academy of Fine Arts, but upon returning to Bern discovered that the public there found his work "too realistic." In 1880, he took up a friend's invitation, and traveled to Berlin, where he began to build a reputation as a portrait painter and teacher. His students during his years in Berlin included the famous German artist Käthe Kollwitz, who took his class on portraiture, and on whom he had a profound influence. In 1884, the famous German etcher Peter Halm introduced Stauffer-Bern to the technique of engraving. Stauffer-Bern continued his study of engraving on his own, and quickly became one of the most talented print-makers of his time, creating an outstanding series of portraits of his family, his friends, and of leading Swiss and German personalities.
After the artist's return to Switzerland, an old school friend, Friedrich Emil Welti and his wife Lydia Welti-Escher became his most important patrons. The Welti-Eschers were well placed in Swiss society - Welti's father Emil Welti was a Federal Councilor, as was Lydia's father Alfred Escher, the wealthy Gotthard railway magnate and co-founder of Credit Suisse.
In 1888, the Welti-Eschers agreed to finance a stay in Rome for the artist. A year later the couple themselves decided to move to Florence, and Stauffer-Bern helped them to set up residence there. Shortly after their arrival, Friedrich Emil was called back to Switzerland on business, and Lydia and Karl found themselves alone together. A love affair began, and the couple left for Rome together. Friends who encountered them there worried that artist had fallen into a kind of madness. News of the affair reached Bern, scandalizing Swiss society to the extent that even the government - through emissaries in Rome - felt compelled to intervene. Lydia Welti-Escher was committed to an asylum, and Stauffer-Bern briefly sent to prison under trumped-up charges.
Stauffer-Bern was released from prison after several months, but he was a broken man, and within a few weeks, penniless and suffering from a nervous collapse, was committed to San Bonifazio clinic in Florence, one of the first hospitals for the mentally ill. While there he began composing poetic lyrics which he called "Songs of the Fool from San Bonifazio." His friend the German sculptor and author Adolf von Hildebrand was able to get him released several months later.
But back in Switzerland, Stauffer-Bern lived under the shadow of scandal and the sorrow that Lydia was reported to be back with her husband. The accusations under which he was imprisoned, although false, were not publicly cleared. He fell into a depression and attempted to shoot himself in the botanical gardens of Bern. The bullet closely missed his heart, and he survived. Stauffer-Bern returned to Florence to work, but the bullet wound caused him continuing pain, and he grew reliant on ever-increasing doses of the sleeping drug Chloral. On the morning of January 23, 1891, his doctor found him dead of an overdose, at the age of just 33. It remains unknown whether it was suicide or an accident. Karl Stauffer-Bern was buried in Agli Allori, the famous cemetary for foreigners in Florence.
Lydia Welti-Escher, who had left her husband, moved to a small chateau in Champel, Geneva. In December 1891, less than a year after Stauffer-Bern's death, she took her own life by opening the gas line in her villa.
The Museum of Fine Arts in Bern held a major retrospective of Stauffer-Bern's work in 2007 in commemoration of the 150th anniversary of the artist's birth. The exhibition was entitled "Verfluchter Kerl" which loosely translates as "That Bloody Guy." The reference is to a quote of Gottfried Keller's uttered part in exasperation, part in admiration of the passionate spirit of his artist friend.
Sources for the above article
and Reference web sites: