Guido Cadorin – Fishermen at Sunset
Guido Cadorin
(Venice 1892 – 1976)
Lithograph (Lithotint? )
Beautiful image of a small boat – possibly a fishing boat from Cadorin's native Venice. We have examined this image with a magnifiying loop and believe that the technique is most likely the type of lithography known as a "lithotint" which can be very difficult to distinguish from a watercolor, although there is a possiblity that this is in fact a watercolor. We are happy to provide enlarged images on request.
Guido Cadorin (Venice 1892-1976) is one of Venice's best known artists and designers of the early 20th Century. He was influenced by the Italian Liberty movement (Italy's art nouveau movement) and later by magic realism and by other major currents in early 20th Century modern art.
Among Cadorin's most famous interior design projects are the frescos in the Ambasciatori Palace Hotel, opposite the American Embassy in Rome.
Dimensions: 39 X 50 cm
Condition: The sheet has light age toning and some very, very faint foxing visible primarily in the margins.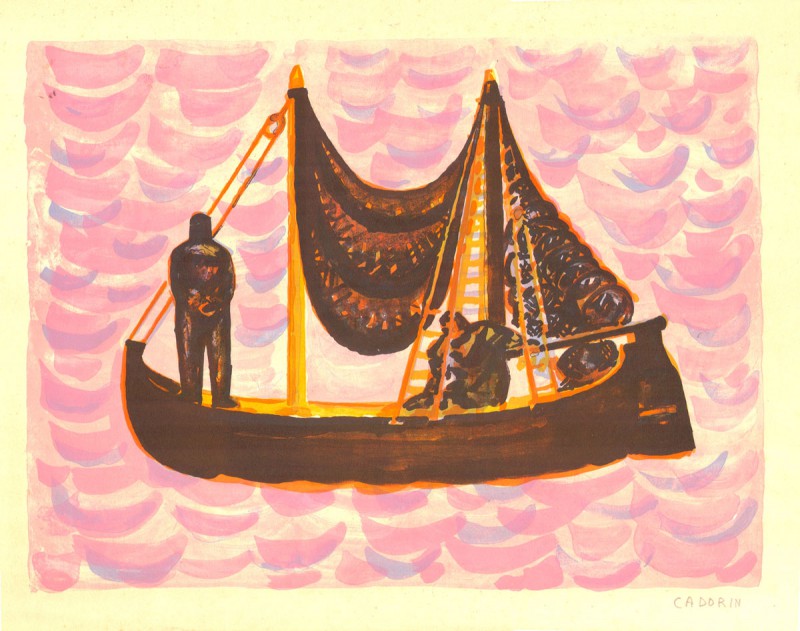 Signature