Erich Waske – German Expressionist – Fishermen (SOLD)
Erich Waske
 (Berlin 1889-1978)
Two Fishermen (SOLD)

Oil on painters board
Eric Waske was part of the first wave of the Expressionist movement in Germany. He studied in Berlin at the Hochschule für bildende Künste (School of the Visual Arts) from 1909 to 1912.
Waske exhibted as part of the group known as the 'Die Brücke' alongside artists like Kirchner, Heckel, or Schmitt-Rottluff. He was also associated with the Neuen Berliner Secession, and later the Berliner Secession. The Nazis declared his work to be "entartete Kunst" (Degenerate Art) and during the war most of his early paintings were destroyed in a bomb attack. Evacuated from Berlin during the war, Waske returned to live there in 1946.
This work almost certainly dates to the post-war period, probably the 1950s or 60s.
Dimensions: 41 X 59 cm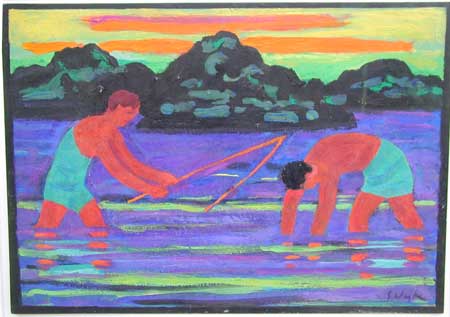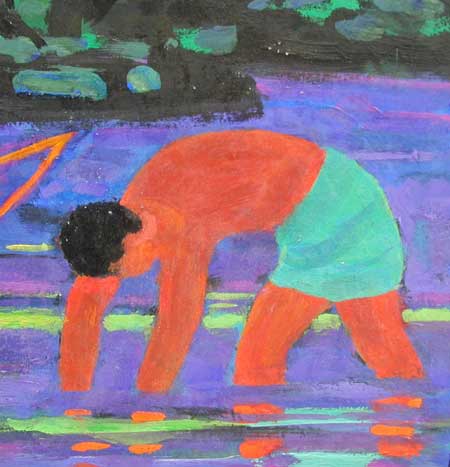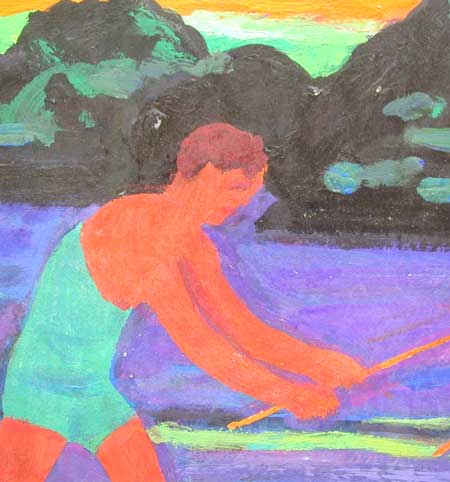 ]]> ]]>Some Suggested Searches in the Fine Arts Category Styles (Searches below cover fine art only, not prints or maps) Abstract Art Brut Art Deco Art Nouveau Cubism Expressionism Folk Art Primitive /Naive Surrealism Symbolism Futurism Impressionism Chalet Decor 18th Century Fantasy Subjects Alpine Landscape Animals Landscape Portrait Still Life Nudes Seascape /Nautical Geneva Region Motherhood / Children Biblical / Christianity Artists on Village Antiques by Country
(lists are not comprehensive – please also try searching the artists's name) Search Entire Website Swiss Artists American ArtistsGerman Artists French Artists British Artists Browse The Fine Art Pages  Page 1 | Page 2 | Page 3 | Page 4 | Page 5 | Page 6 | Page 7 | Page 8 | Page 9 | Page 10 | Page 11 | Page 12 |Page 13 | Page 14 | Page 15 | Page 16 | Page 17 | Page 18 | Page 19 | Page 20 | Page 21 | Page 22 | Page 23 | Page 24 | Page 25 | Page 26 | Page 27 | Page 28 | Page 29 | Page 30 | Page 31 | Page 32 | Page 33 | Page 34 | Page 35 | Page 36 | Page 37 | Page 38 | Page 39 | Page 40 Contact Village Antiques for Prices or More Information