Tropical Fish – Peacock Damsel and Harlequin Sweetlips – Handcolored Antique Print
Antique Handcolored Engraving of Tropical Fish

From Dictionnaire des Sciences Naturelles by Pierre Jean Francis Turpin, published in France by Levrault, 1816.
This engraving shows – Pomacentre paon-de-mere = Pomacentrus pavo, sapphire damsel, peacock damsel or blue damsel and Plechorhynch – Plectorhinchus chaetodonoides, the harlequin sweetlips, a species of grunt native to the Indian Ocean and the western Pacific Ocean.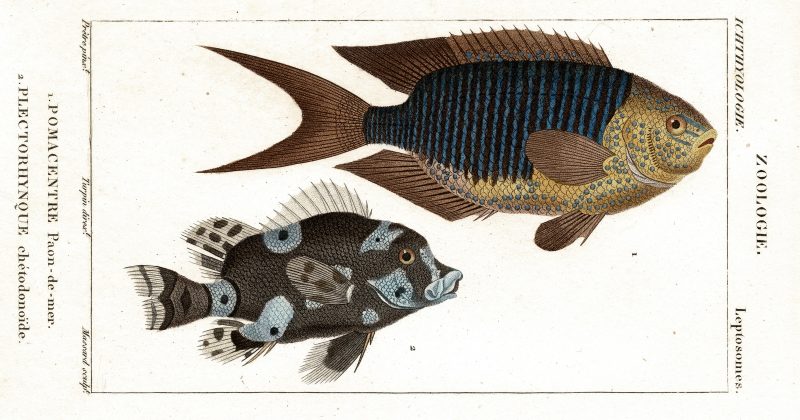 Dictionnaire des Sciences Naturelles
1816
Pierre Jean Francis Turpin
11 March 1775, Vire – 1 May 1840
In-octavo format - Most sheets measure approximately 15 x 23 cm
The French botanist and illustrator Pierre Jean François Turpin  is considered one of the greatest floral and botanical illustrators of his time.  He began his study of nature while stationed in Haiti in 1794 as a member of the French army.  There he met the botanist Pierre Antoine Poiteau and began to create botanical field drawings.  As an artist, Turpin was largely self-taught.
The Dictionnaire des Sciences Naturelles was published by Turpin. Most of the illustrations in this work were engraved after paintings by Jean-Gabriel Prêtre.