Thomas Rowlandson – John Bull's Turnpike Gate
Thomas Rowlandson satirises the Test Acts, a series of discriminatory laws in Great Britain which prohibited anyone who had not taken communion in the established Church of England from taking public employment or government office. John Bull – the personification of the United Kingdom – stands by a toll gate leading to a church on a hill marked 'King, Church and Constitution'. The Pope riding on a donkey has come up to demand entry. Behind him are dissenters and Quakers also petitioning for access.  John Bull points adamantly at the Test Act, which during this period was a matter of growing public protest and debate.  The Test Act measures were finally repealed through the The Sacramental Test Act of 1828.
This is a version made for the German journal "London and Paris" shortly after the original was published in London.  "London and Paris" was published in Weimar between 1798 and 1815 by the publisher Friedrich Justin Bertuch.  German correspondents sent copies of original prints by such noted artists as Gillray and Rowlandson directly from London and Paris to Germany where they were beautifully reproduced as hand-colored etchings.
Dimensions: 25 x 20 cm
A copy of Rowlandson's 1805 original can be seen in the British Museum.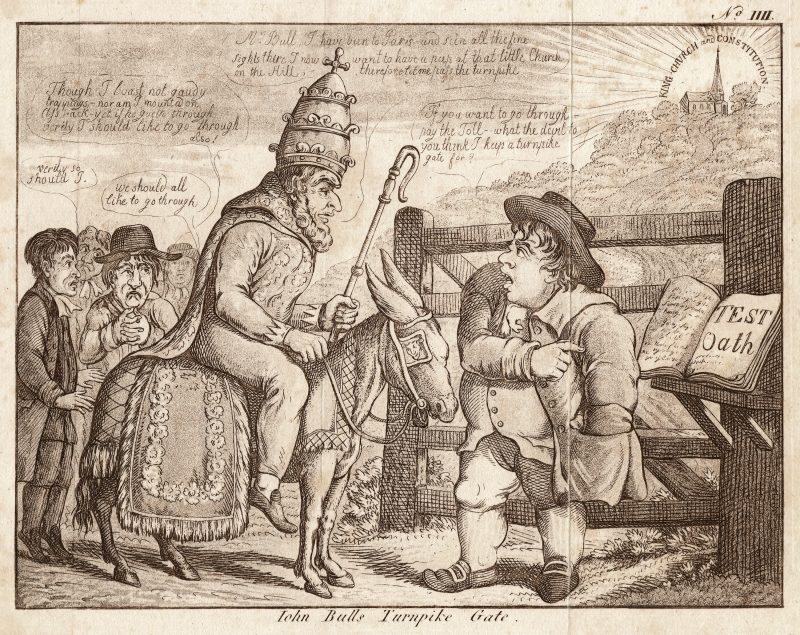 Thomas Rowlandson
London 1756 or 1757 - April 182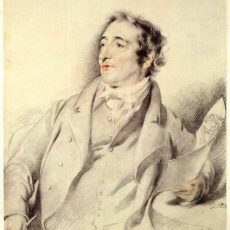 One of the great English caricaturists and satirists, Rowlandson was a skilled draughtsman and engraver. As a child, he is said to have learned to draw before he could write. After attending Eton and the Royal Academy, he spent two years studying drawing in Paris. He set up a studio in London as a portraitist, but eventually turned to caricature as a means of supplementing his income.
Today Rowlandson is best known for his amusing illustrations of life and politics during the late 18th and early 19th centuries. His work included a personification of the United Kingdom named John Bull who was developed from about 1790 with other British satirical artists.  Together with William Combe, he created the character Dr. Syntax, a fictional, rural schoolmaster and pastor who sets of on a series of "Tours" or travelling adventures.