The Devil's Bridge – Vue du Pont du Diable – 18th Century Engraving by Chatelet / Masquelier
Vue of the Devil's Bridge in the Swiss Alps – IIe Vue du Pont du Diable – a famous scenic spot on the Saint-Gothard route.  Travelers and mules can be seen passing over the bridge above the waterfall of the Reuss river.
Engraver:  Masquelier, Louis Joseph (1741-1811)
Illustrator:  Châtelet, Claude Louis (1753-1795)
Illustration from Beat Fidel Zurlauben's famous work: "Tableaux topographiques, pittoresques, physiques, historiques, moraux, politiques, littéraires, de la Suisse"  published between 1780-1788.
Reference: Copy of this print in the collection of the Lausanne Cantonal and University Library
Beautifully presented in an antique gilt frame.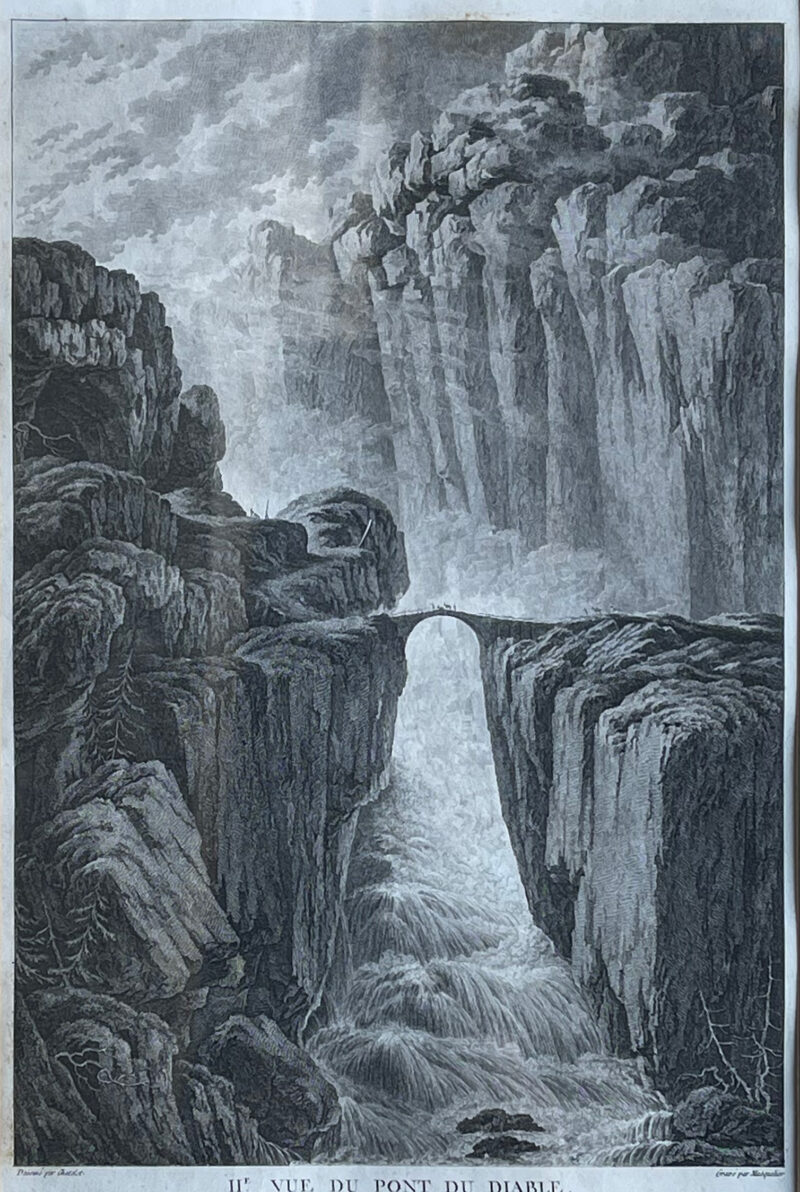 Tableaux de la Suisse
Published in different editions between 1770 and 1786
Beat Fidel Antoine Dominique Zurlauben (1720 - 1799) and Jean-Benjamin de Laborde (1734 - 1794)
With over 400 beautifully produced engravings, Baron de Zurlauben's "Tableaux de la Suisse" is one of the most complete and beautiful books on Switzerland ever produced. The project was supported by Jean Benjamin de Laborde (1734 – 1794), a lieutenant general in the French army, and a favorite of Louis XV, and the Swiss General and military historian Baron von Zurlauben. The principal author, Zurlauben (1720 – 1799), had studied history with Jean Rollin in Paris and was a general of the "Schweizergard" (Swiss Guards) who protected French Royalty.
The full title of the work is: Tableaux De La Suisse, Ou Voyage Pittoresque Fait Dans Les Treize Cantons Et Etats Allies Du Corps Helvetique : Représentant les divers Phénomenes que la nature y rassemble, & les beautés dont l'art les enrichis; suivis de la description topographique, physique, historique, morale, politique & littéraire de ce Pays Par M. le Baron De ZurLauben.