The Country Tooth Drawer – Antique Dentistry Caricature Engraving
In the 17th and 18th Centuries, the blacksmith's forge was the recognized dental office and teeth which caused pain were regularly extracted by the village smithy. In this scene, a blacksmith, working in his forge, improvises dentistry using huge forceps to extract a patient's tooth while a woman watches.  The theme of such tooth extractions was a popular theme of artists of the period.  Up until the 1860s, Dentistry was largely unregulated. Itinerant tooth extractors also earned money by attracting an audience.
Striking large format mezzotint engraving by an unknown artist published by Bowles and Carter in London in the late 18th Century.  A copy of this rare engraving was featured in the 2018 Wellcome exhibition on the history of dentistry.
Date: Circa 1780
Dimensions:  Approx 35 x 50 cm
Condition: Very good. Light discoloration of paper.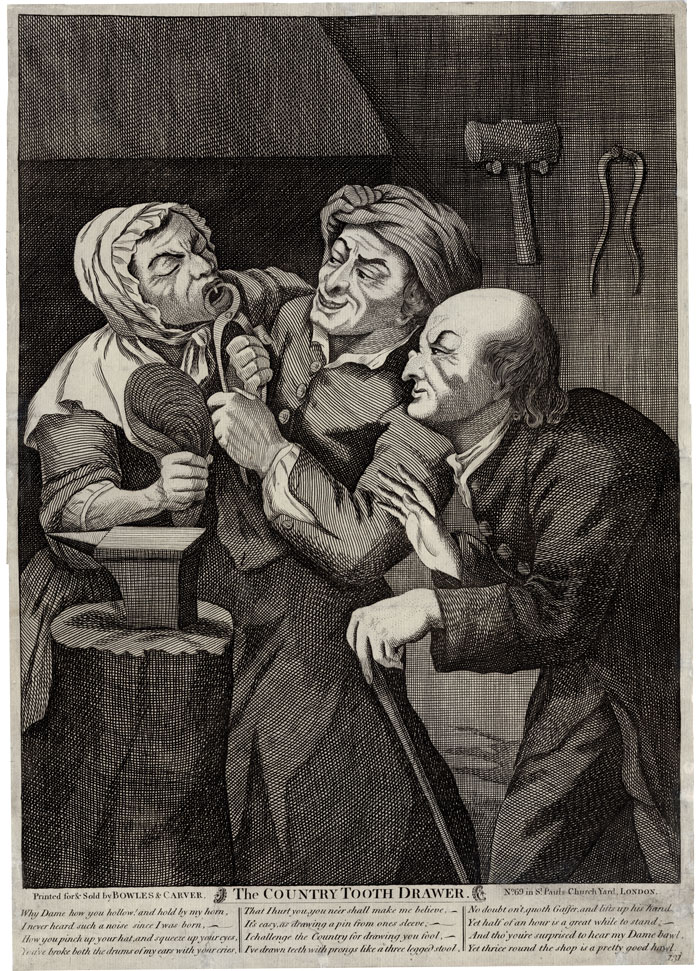 The text below the image reads:  The Country Tooth Drawer – Printed for & Sold by Bowles & Carver – No 69 in St. Paul's Church Yard, London
"Why dame how you hollow! and hold by my horn I never heard such a noise since I was born. How you pinch up your hat, and squeeze up your eyes, You've broke both the drums of my ears with your cries. That I hurt you, you ne'er shal make me believe, It's easy as drawing a pin from one's sleeve; I challenge the Country for drawing you fool, I've drawn teeth with prongs like a three-legged stool. No doubt on't quoth Gaffer, and lifts up his hand, Yet half of an hour is a great while to stand; And tho' you're surprised to hear my Dame bawl, Yet thrice round the Shop is a pretty good hawl."