St. Paul's Basilica After the Fire of 1823 – Antique Engraving from 1826
The year 2023 marks the 200th anniversary of the the devastating fire of 1823 which destroyed St. Paul's Basilica in Rome.  At the time, this was an event felt round the world and as traumatic as the fire that torched Notre Dame in Paris in April 2019.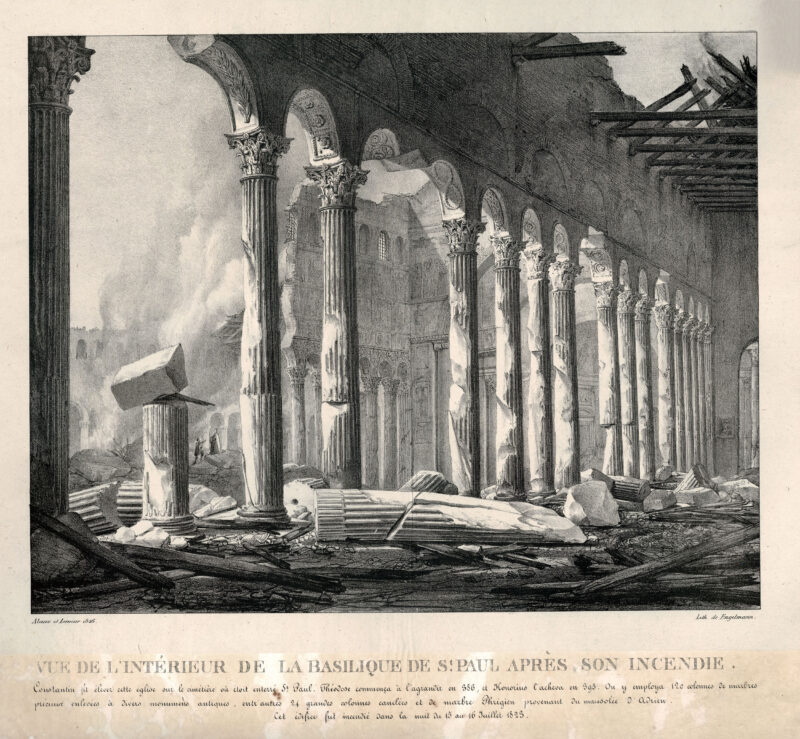 Lithograph of the church of S.Paolo fuori la Mura – Basilica of Saint Paul Outside the Walls –  after the fire of 1823.  It is known as "outside the walls" since it is not within the territory of the Vatican, but is still the property of and under the jurisdiction of The Holy See.
Drawn by
Jean-Paul Alaux (1788-1858)  and Jean Baptiste Lesueur
Paper size: 62 x 47 cm
Image size: 38 x 30.5
Fair general condition: Foxing and staining in margins, but strong clear impression in the central print.  Will look magnificent framed.
As recounted in The National Catholic Register
"The roof of the basilica was leaking during downpours, and Pope Pius VII, a Benedictine who earlier in his life studied and taught at the monastery attached to the basilica and loved it greatly, gave authorization for repairs to be done. On the evening of July 15, two workmen labored late into the night, extending copper gutters on the eaves of the roof toward the façade. After they left, embers that had not been fully extinguished in a pan they were using to heat and mold the copper, escaped to ignite a fire on the roof that would burn until the following morning.
Herdsmen grazing their cows early on July 16 saw the flames and quickly notified the Benedictine monks, two of whom risked their lives to ring the bell to call for help. When, two hours later, the fire brigade arrived with three horse-drawn carriages, carrying two fire pumps, they concluded they would not be able to stop the fire razing the basilica, and so worked, successfully, to save the monastery.
After the fire had burned itself out, it had destroyed the roof, which led to the collapse of the entire north (left) side of the basilica. The triumphal arch with its precious fifth-century mosaics, the altar area built over the apostle's tomb, the transept and apse with its 13th-century mosaics were spared."
…
"The reconstruction took three decades and four popes. Finally, on Dec. 10, 1854, two days after solemnly proclaiming the dogma of the Immaculate Conception, Pope Blessed Pius IX led a procession of 50 cardinals and the faithful of Rome from the Vatican to the Ostian Way, where he consecrated the new basilica."