Swiss Traditional Costumes – Cowboys (Sennen) of Freiburg Gruyere
Swiss Armaillis Cattle-herders from the Gruyere region

This amusing chromolithographic photo  shows three Swiss cowhands, known in the French speaking regions as "Les Armaillis" and in the German Alpine regions as "Senn" or, plural, "Sennen."  These were hired hands who escorted the cows up to the high pastures.  The title reads: "Freiburg – Gruyerezer Sennen."
One sits on a butter churn. The dairyhand on the left carries on his shoulder the traditional wooden transport platter for cheese which is known as the oiseau a fromage or l'oji in the patois of fribourg.  They are all smartly dressed in the traditional puff sleeved embroidered jackets known as "Bredzon."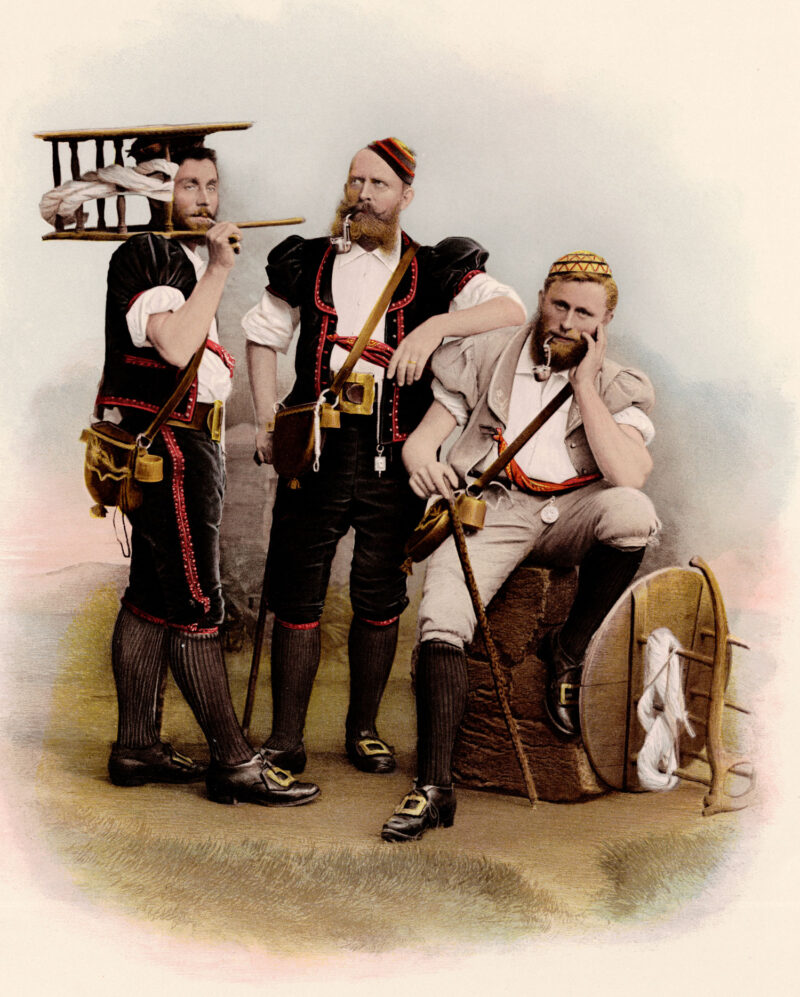 Die Schweizer-Trachten vom XVII-XIX Jahrhundert nach Originalien
1897-1898, Zurich
Julie Heierli (author) and by Rudolf Ganz (photographer)
Full Sheet: Approx: 56.5 x 42.5 cm -  22 x 17 inches
This engraving comes from an extraordinary set of images from "Die Schweizer-Trachten vom XVII-XIX Jahrhundert nach Originalien" by Julie Heierli (author) with photos by Rudolf Ganz.
The original illustrated publication contained  36 large format plates of Swiss costumes in chromophotogravure.  The original photos were taken in March 1896 at the costume festival (fête du costume suisse) of the cercle d'Hottingen in Zurich.  Julie Heierli, an ethnologist born to Swiss parents in San Francisco in 1859, was  a leader in initiating the study of Swiss traditional costumes.  She is the author of the reference book:  Die Volkstrachten der Schweiz (The Folk Costumes of Switzerland).  Heierli was also responsible for the  collection de costumes in the Swiss National Museum in Zurich and provided advice to the Museum of History in Bern.
Published in Zurich by Zürich, Brunner & Hauser, 1897-1898.
References: About Julie Heierli
Condition: Excellent
References:  About the Oji or Oiseau a Fromage
Copy of the book in the library of the ETH in Zurich: