Renaissance Herbal Illustration – Aspleno Fern – Mattioli
Extraordinary Italian 16th Century woodblock – Pietro Andrea Mattioli

Aspleno – showing what we believe is a species of polypod fern from the family Polypodiaceae.  Pages 949 and on the reverse, 950
Condition: Light toning of sheet. Small tear on top of sheet. Text on opposite side. Print from opposite side shows through on image side as is the case with most old woodblock prints. Otherwise very good.
Dimensions: 25 x 36 cm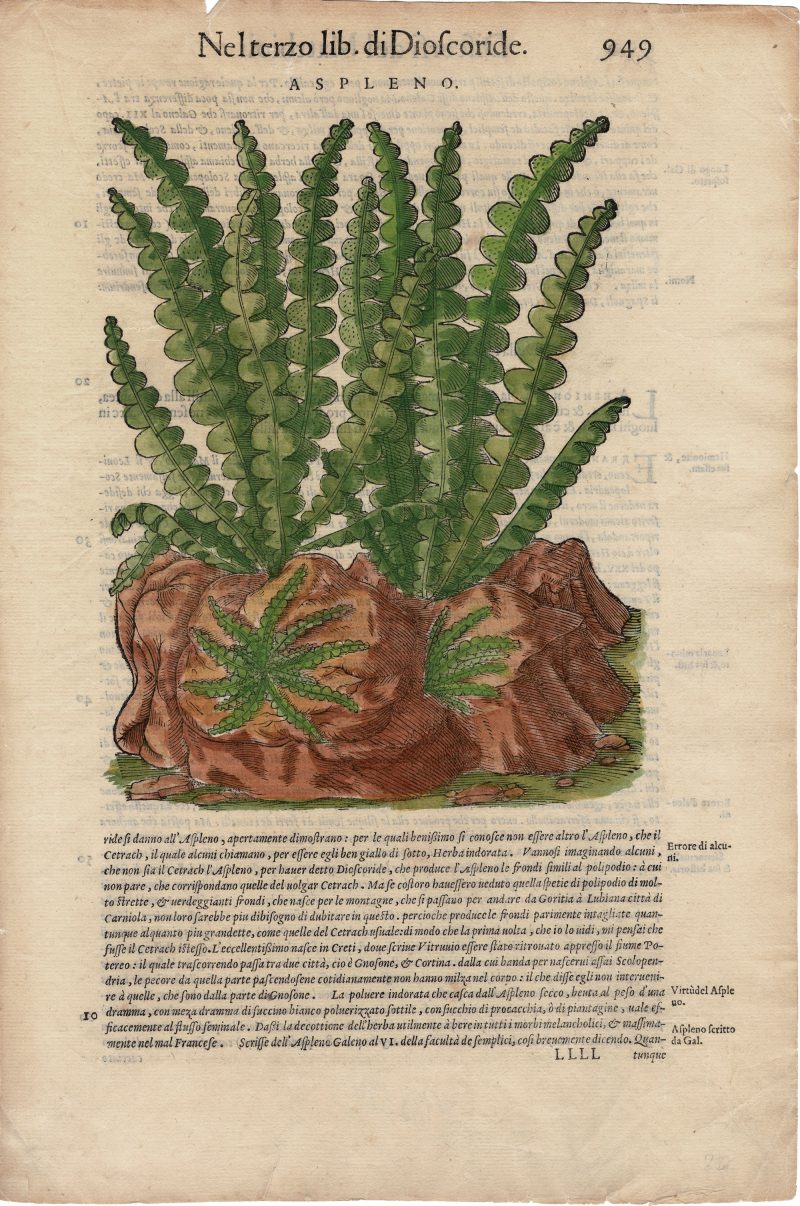 Pietro Andrea Matthioli
1501-1577
I discorsi di Pietro Andrea Matthioli
16th Century, Italy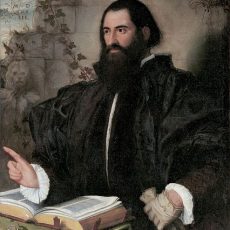 Pietro Andrea Mattioli was one of the most famous physicians and herbalists of the 16th century and was responsible for incorporating many New World plants into botanical knowledge.
Mattioli was born in Siena in 1501 and studied medicine in Venice and Padua, and became a doctor and expert on the medicinal use of plants. After the publication of his book, he was called to be the personal physician to the Archduke Maximilian in Prague.   He described around 100 new plants and assembled what was known of herbs and medical botany in his time into his Discorsi ("Commentaries").  The plant genus Matthiola – around 50 flowering plants in the mustard family – was named by the Scottish botanist Robert Brown in honor of Mattioli.  He is also believed to have been the first person to have identified allergy to cats as a source of symptoms.
i Discorsi di M. Pietro Andrea Matthioli
These beautiful illustrations are pages from Matthioli's famous work "I discorsi di M. Pietro Andrea Matthioli … nei sei libbri di Pedacio Dioscoride Anazarbeo Della materia medicinale" published in Venice in the 16th Century.  The vivid woodcuts were based on artwork by Wolfgang Meyerspeck or Giorgio Liberale. Several editions, first in Italian and later in other languages, were published in the years between between 1544 and 1600 Since we do not have the cover sheet we are not certain of those editions these pages are from.  Each sheet was printed on two sides, and the print from the opposite side shows through lightly on the other, as is the case with most renaissance period woodblock prints.