Marcel North – Surrealist Scene
Marcel North
Original Engraving by the artist and book illustrator from Neuchatel.
It is signed M. North lower right and numbered 46/100.
Born in Dorking, England in 1909, North later settled in Neuchatel where he became a painter, engraver and illustrator. He created costume designs for the theatre and was known for his illustrations of the great works of literature including Cervantes, Edgar Allen Poe and La Fontaine.
Image size: 12 X 18 cm
Sheet size: 32 X 24 cm
The title appears to read "Masques apeures" ?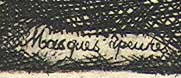 (Margins of sheet are not shown in this scan. They are around 7 cm on all sides.)
We are interested in learning more about this artist and hope than anyone with further information or an idea which book this illustrates will contact us