19th Century Portrait of a Boy – Andre Frere de Fanchon – Les Petits Savoyards
Andre, the Brother of Fanchon
A Young Boy Plays a Triangle
He sits in a bucolic country village with a little alpine marmot in a box at his side.
Andre appears to have been a "petit savoyard," one of the many children from the mountainous savoy region of France who were sent to work in other parts of France during the long difficult winters when their families could not feed them.  Often they became chimney sweeps (ramoneurs), known for their agility in climbing into chimneys to clean them.  Often they would carry with them an alpine marmot and claim that the marmot taught them how to climb.
The image of the Petit Savoyard became part of French popular culture from the 18th into the early 20th Century. They were frequently the subject of romantic depictusion, and later were often depicted on post-cards.  But their life was in fact very difficult, and many became ill from their exposure to
Condition:  Some slight spotting in the margins.
Full sheet has larger margins than shown
Annotations:
Title  Andre Frere de Fanchon
Engravers: Engraved by Nicolas Schencker (176.-1848) / Painted by Jean Frederic Schall (1752-1825)
Published at:
A Paris Rue St. Jacques N°30 : chez Schencker Graveur, [s.d.]
Mention at the lower right: déposé à la Bibliothèque Nationale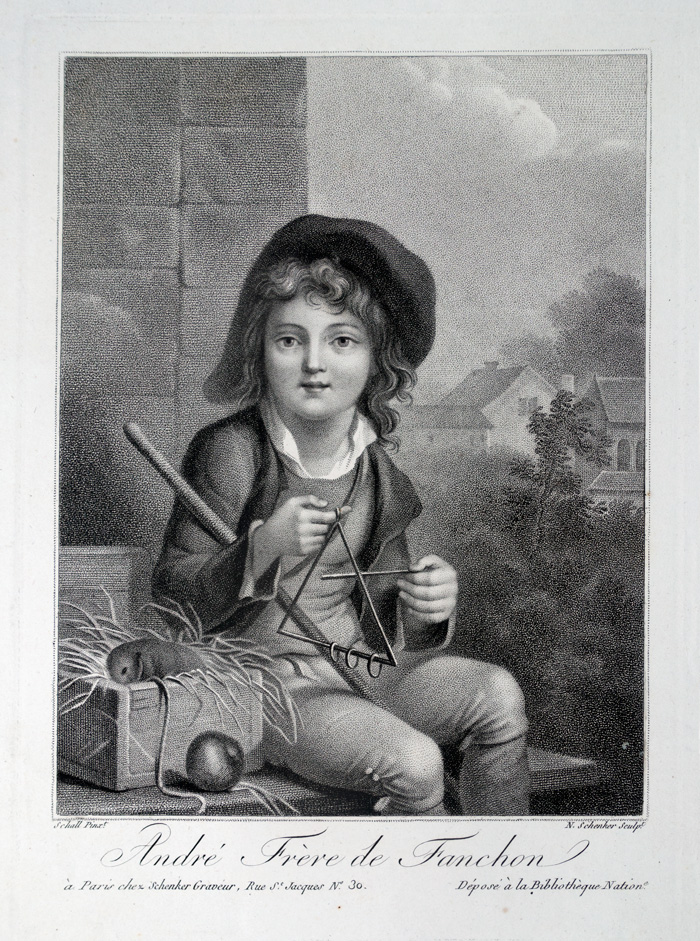 Sources: Les Petits Ramoneurs
Le Ramoneur, La Marmotte et La Montagne
Save
Save
Save
Save
Save
Save