Works by Swiss Artist Helen Dahm
Helen Dahm
Helen Dahm, one of the most important figures in Swiss 20th Century art, was a prolific artist who worked in many media – oil, drawing, print making and murals.
While in Munich (1906-1913) Helen met the artist and arthistorian Else Strantz who became her longtime partner. Through Else, she also came in contact with the German expressionist group the Blue Rider (Blaue Reiter) who exerted a deep influence on her.
After a separation from Else in 1932, Helen Dahm entered a period of crisis and depression. In 1937, Dahm met the Persian-born Indian Guru Meher Baba in Cannes, and the following year went to live at his invitation with a group of women in his asharam in Meherabad, India. There she painted a series of interior murals for Meher Baba's tomb, which have recently been restored.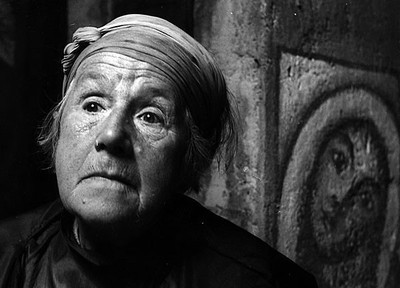 Portrait of Helen Dahm in Meherbad, India in 1938
For more information about the life of this fascinating woman artist, visit the website: