Phalacrotreron Delalandii from Bonaparte's Pigeons
Charles-Louis Bonaparte – Phalacrotreron Delalandii
Plate 1 from Charles-Louis Bonaparte's Iconographie des Pigeons. Lithograph after Paul Louis Oudart with one sheet of text
This African Green Pigeon is today known as Treron delalandii.
Condition: Light toning and foxing.
Iconographie des Pigeons
Circa 1858
Charles Lucien Bonaparte
France - 1803-1857
Each lithograph measures 36 x 55 cm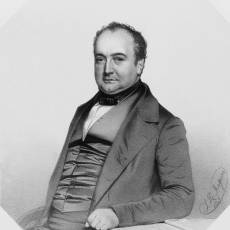 Bonaparte's fine collection of portraits of pigeons was intended to appear in thirty monthly installments (livraisons) with a total of 150 plates but the author died after the publication of part four. The publishers went forward with an additional eight installments, the last of which appeared in July 1858. The total number of plates from this work is therefore only 55.
Charles Lucien Bonaparte, the nephew of Napoleon, had an prolific career as a natural historian. He spent six years in the United States between 1822 to 1828, where he was a friend of John James Audubon. His key works include an updating of Alexander Wilson's American Ornithology, an 1841 study of Italian wildlife, Iconografia della Fauna Italica and this work, Iconographie des Pigeons.