Antique Map from Jansson Mercator Atlas Minor – Biscaia, Guipiscoa, Navarra & Asturias de Santillana
Biscay – Antique Map from Jansson Mercator Atlas Minor
Copperplate engraving of the Northern Atlantic coast of Spain from Atlas Minor published by Jan Jansson in Amsterdam during the first part of the 17th Century.
Place names on this map include Bilba0, Pamplona, Bayon (Bayonne).
From the Latin edition published in Amsterdam in 1628.  Text in Latin on back of sheet.
Condition: Good – Light age toning. Corners with tape as shown in image of full sheet.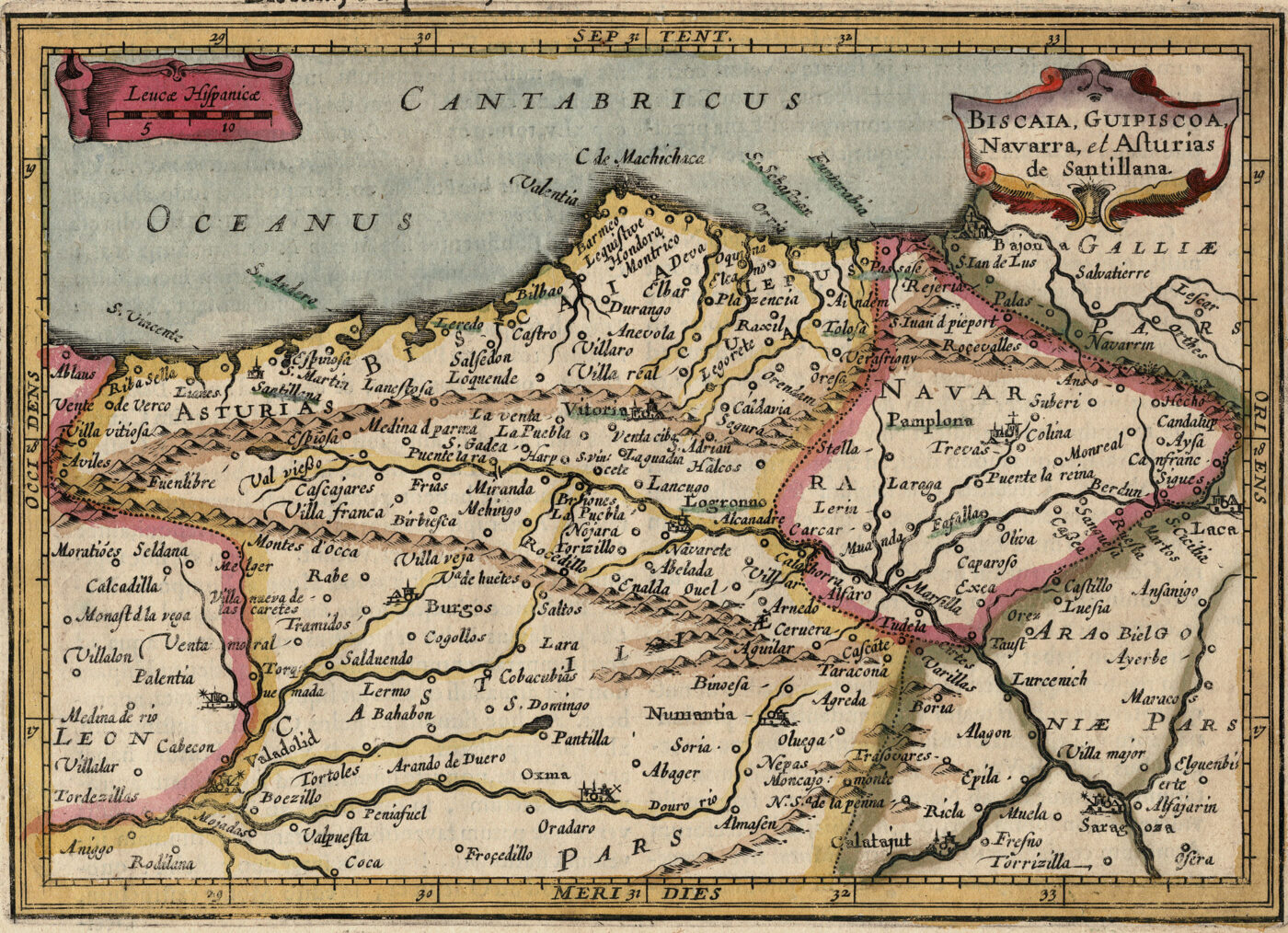 Jansson-Mercator Atlas Minor
Mapmaker:
Gerhard Mercator / Gerard Mercator / Gerardi Mercatoris
Publisher: Jan Jansson / Johannes Janssonius / Jan Janssonius
Date of Publication: 1628
Engraver: Petrus Kaerius (Pieter van der Keere) and Abraham Goos
Dimensions: Approximately 22.5 cm x 17 cm

Jan Jansson (1588, Arnhem – buried July 11, 1664, Amsterdam) was a Dutch cartographer and publisher who lived and worked in Amsterdam in the 17th century.
He was named for his father, Jan Janszoon the Elder a publisher and bookseller in Arnhem, and married Elisabeth de Hondt, the daughter of the famous mapmaker Jodocus Hondius with whom his family had business ties.  Jansson began producing maps in 1616 – and eventually owned bookstores across Europe in Frankfurt am Main, later also in Danzig, Stockholm, Copenhagen, Berlin, Königsberg, Geneva and Lyon. In the 1630s he formed a partnership with his brother in law Henricus Hondius, and together they published atlases as Mercator/Hondius/Janssonius.
Atlas Minor
Jansson's Atlas Minor was a reduced version of the Atlas produced by Gerard Mercator (1512-1594). The Copperplate engravings for Altas Minor were done by Pieter van den Keere (Petrus Kaerius – 1571-1646) or Abraham Goos.  Due to the unique error found on the map of Cuba, we believe this set of maps most likely comes from the 1628 Latin edition.  Each sheet has Latin texts on the reverse.