Up to the Alps – Oil on Canvas by Hans Widmer (Sold)
Hans Widmer – Up to the alps
Montee a L'Alpage
This wonderful small painting shows a Swiss peasant or Armailli leading his cow up to the alpine pastures for the summer. In the Swiss alps, the Armailli (German: Senn) is the person who oversees the pasturage of cattle and summer production of cheese in the alps, generally from May until September or October.. The subject of this painting wears the Armailli's typical black velvet "bredzon" jacket with embroidered edges and puff sleeves. The cow or bull is also typically adorned with a small pine tree and flowers for the ascent to the mountain pastures, one of the great cyclical events in Swiss alpine life.
Oil on Board
Framed
Dimensions: 27 X 33 cm (dimensions do not include frame)
SOLD
Hans Widmer
(1872-1925)
The Bernese painter and goldsmith studed in Geneva and Munich and worked in Paris in the studios of Benjamin Constant and Jean-Paul Laurens. But in his early 20s he returned to Switzerland and the region around his native Bern, where he became known for his depictions of rugged country life in the Berner Oberland.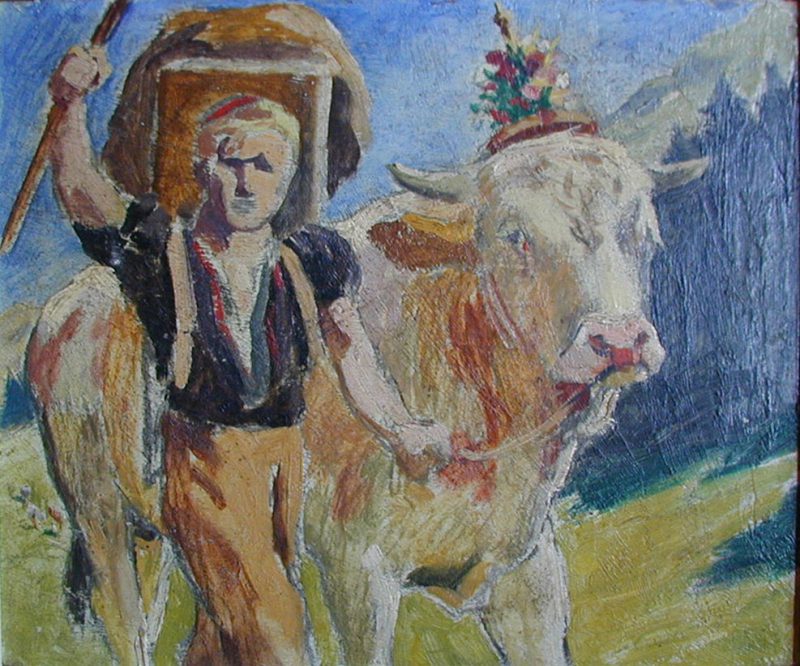 Save
Save