Portrait of Swiss Industrialist Jacob Furrer, Founder of Welti Furrer
Woodblock Portrait of Jacob Furrer, Swiss industrialist and founder of the Welti Furrer transporation firm, by the artist Fritz Urban Welti.
Dimensions: Image size: 10 x 14 cm / Card size: 15 x 21 cm
Note: We do not have signed originals of this image.
This print is available only in unsigned card format – the interior of the card is printed with a new years message from the company.
An interesting frameable image for anyone interested in Swiss entrepreneurship or the history of the transporation industry.
Chf 18 each plus shipping.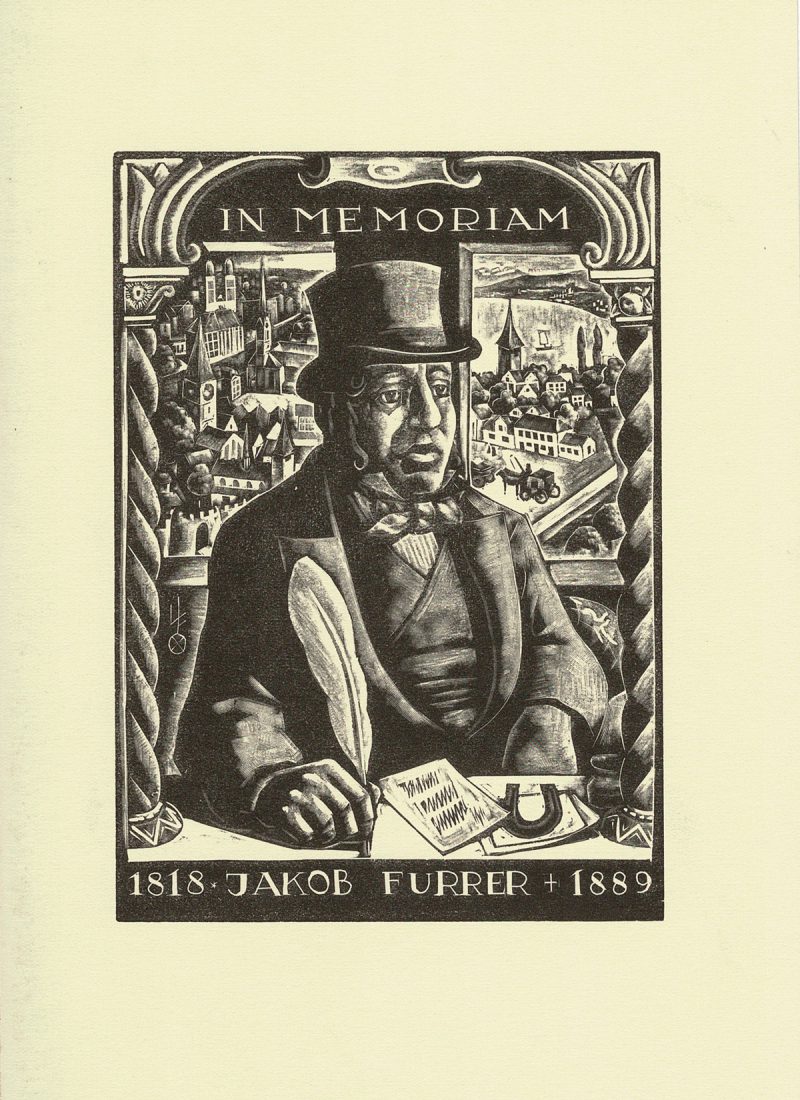 Fritz Urban Welti
(Zurich 1901 - Zollikon 1974)
Fritz Urban Welti was a painter and a master of the woodcut print. He was born in Zurich in 1901 and died in Zollikon near Zurich in 1974. He studied in Cologne, Vienna and Paris. He was the nephew of the famous Swiss symbolist artist Albert Welti.
The Woodcuts on this page were executed as commissions for the Welti family transport business, Welti-Furrer, of which Fritz Urban's grandfather was a founder.
There is a very old tradition in Switzerland that companies and societies give a print ((Neujahrsblatt) to their clients and associates at New Years. Welti created these "New Years Print " engravings for the company beginning in the early 1930s. In some years a second card was also created that could be used as a birthday card for clients.
We are pleased to be able to offer signed limited editions, handprinted by the artist, of some of the woodblock prints below. The prices vary, so contact us with information about the image you are interested in.
Save
Save
Save
Save