Alexandre Louis Fr. d'Albert Durade- Preserving Geneva History
2.12.1804 (Lausanne) -  27.6.1886 (Geneva)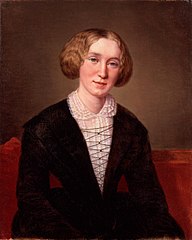 The son of an Austrian couple who worked as tutors, Alexandre-Louis-François d'Albert was adopted and raised in Geneva by Jeanne Sara Durade, the sister of his godfather, and added her name to his own. He studied theology at the Academy of Geneva and was a student of the painter and portraitist Joseph Hornung.  Through painting and photography, d'Albert-Durade sought to preserve the history of Geneva, and acted as conservator of the permanent collection of the Athenee for nearly 30 years. In 1834 he married the accomplished painter of flowers Antoinette (Julie) Covelle.
D'Albert-Durade was a close friend of the English author George Eliot (Mary Ann Evans), translated her works into French and painted a well-known portrait of Eliot in 1849 during the period when she lodged in his house after the death of her father.  He later accompanied Eliot on  her return to London where she took him to see the work of the English Romantic painter J. M. W. Turner (William Turner).
D'Albert Durade is known for his historical painting and for his portraits of prominent Genevans such as the philanthropist Gustave Revilliod, on whose former estate the UN offices sit today.  D'Albert Durade's can be found in the Musee des Beaux Arts in Lausanne and other major collections in Switzerland and beyond.
Works by Alexandre Louis Francois Albert-Durade