Adriaen Collaert after Martin de Vos – Miracle of the Five Loaves
The Miracle of the Loaves and Fish or The Feeding of the Multitudes
Early 17th Century Flemish Engraving by one of the Great masters of Flemish print-making.
Engraved by Adriaen Collaert (1560 – 1618) after Martin de Vos, and printed by Sadler (M. de Vos inven. / Adrian Colleart sculpsit / Sadler executit).
The scene shows one of two miracles attributed to Jesus in which he produces bread and fish for the hungry multitudes.
According to the Gospels, Jesus was preaching to a crowd in a desert place, when it was discovered that there were not adequate provisions to feed the more than 5000 people who had gathered there. A small boy bought five loaves of bread and two fish to Jesus, who blessed them and broke the bread. He then gave it to the disciples who were able to feed the entire assembled multitude with who distributed it and found that it was adequate to feed everyone present.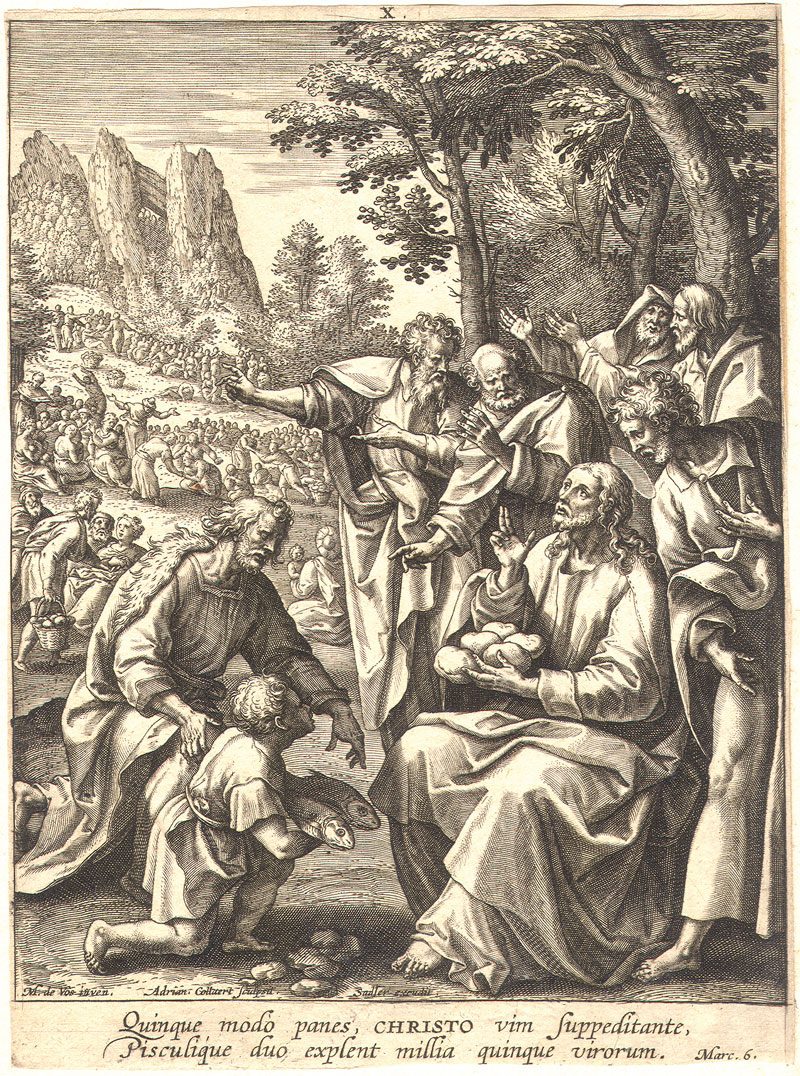 Adriaen Collaert
(Antwerp c. 1560 – 29 June 1618 Antwerp)
Adriaen Collaert was one of the most talented Dutch printmakers of his time. He is known for his engravings after the artist Marten de Vos.
Collaert is part of a family of printmakers which includes his brother, Jan Collaert II, his son, Jan Baptist Collaert II or Jan Collaert III (1591 – 1627/8), and a grandson.
Marten de Vos
(1532 – December 4, 1603)
Also known as: Maerten de Vos, Maerten de Vos the Elder
Marten de Vos was a leading Flemish painter of history paintings, portraits and religious scenes. A prolific draughtsman, he also and produced numerous designs for Antwerp book publishers and printmakers. His art became widely known through engravings created by such famous engravers as the Wierix family, Raphael Sadeler, Adriaen Collaert and others.