Felix Hoffmann – Winter Wanderer (Sold)
Felix Hoffmann
Wanderer in a Winter Landscape
Aquatint Engraving
Felix Hoffmann
(Swiss – 1911-1975)
The Swiss painter Felix Hoffmann was a painter, graphic artist, and deisgner of stained glass windows. He was a member of Xylon, a group of artists promoting the art of the woodblock print.
This beautiful engraving shows a solitary figure in a winter landscape.
Handsigned by the artist in pencil lower right.
Dimensions: 14.5 X 10.5 inches (full sheet size)
8 x 11 inches (platemark size)
Condition: Center image excellent, but there are two brown marks in the upper right and left outer margins from tape which has discolored.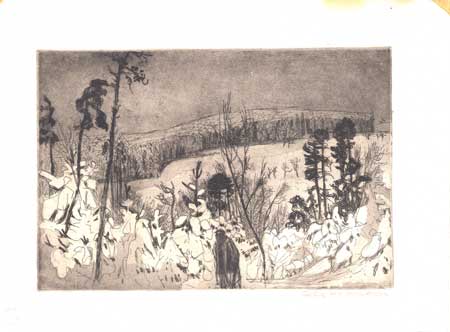 Signature of Felix Hoffmann